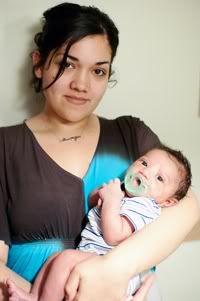 "I became homeless at 18," says 23-year-old Carmen. The Relief Bus met Carmen in September of 2010. At the time she had just left a shelter, and was two months pregnant. Before that, she would get soup from the bus and then leave. But one particular day Austin Bonds, (Director of Outreach) felt led to go talk to Carmen. Carmen said "he asked my name and then said he had some things for me from some people in Michigan."
As it turns out, a team from Michigan had met
Carmen a previous week, and sent some baby things for her. The problem was that Austin didn't know who Carmen was at the time, and so when Austin asked Carmen's name, much to his surprise, he discovered she was that Carmen. Thus began a relationship between Carmen and the Relief Bus family.
During that time, Carmen started having trouble with the shelter she was staying in. They required her to re-apply for housing every ten days, which would require her to travel to an off-site office,
leaving her things behind in the shelter. This
process became too much with a baby on the way, so she moved into another shelter in Harlem which turned out not be a good place.
About one month before having the baby, Austin and his wife Darcy asked her to come live with their family. Carmen was a little skeptical at first. She says "it was difficult going from the street to a
family environment. I had been by myself for so long and didn't have a family environment growing up." When asked about the future, Carmen says she "doesn't want to go back to being homeless so that [Baby Eric] can have a life like this." Carmen now has options to keep her from going back to homelessness.
It's surprising to Carmen that the Bonds took her in, even though they didn't know her. It is that character, amongst many other qualities, that set the Bond's apart as a family that is dearly loved and will be missed at The Relief Bus. After serving for four years with The Relief Bus, the Bonds will be moving. They are going to Dallas to start a new non-profit to help the poor. Austin is passing the torch of Director of Outreach to Josiah Haken (see back). The investments the Bonds made into the lives of Carmen, Baby Eric, and thousands of homeless will continue to flourish for years to come.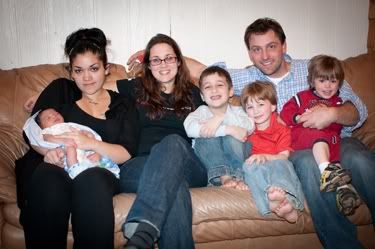 Carmen, Baby Eric, and the Bonds